alwin wrote:


Hello! This is a group rp. The plot is created by me and

@Rouya

   

(we have a chat thread: 

yo

)

(not taking more people now as we don't want it too cluttered)





Plot:



A heavy electrical surge causes people to go missing, and some people gaining powers. Not all people experienced the surge as bad as those who were in contact with electrical objects as it happened, but those who were, experienced a minor electrocution. At first, we do not know anything has happened to us, but slowly, we start to discover our powers, as well as finding out that others have powers too. As time passes, people start going missing, and as it turns out, it happened at the same time of the electrical surge. A small group of people - that would be us - become involved in solving the mystery of the surge and the people that went missing. One of us, someone people would usually call a misfit (in this case moí), decides to not tell anyone and take advantage of their power/s in a not so good way; they do illegal things, but only minor things, as to not draw attention to themself. The rest of our group, now having found each other, try to figure out what caused the electrical surge, what happened to those who disappeared, and who's responsible for it. And at the same time, we're still yet to discover our powers, and that all of us seem to posses a power, which seems to draw us closer together. This misfit, being close to one of the group members, soon discovers that the clues all add up and seem to lead to one thing: him/her/them. However, as they know for sure that they are just as innocent as everyone else, they try to cover it up, which only seems to worsen the situation... And the truth remains yet to be uncovered.



Other info:
-The town we live in is called Briar Glen.
-The power we get has its origins in a need they have; e.g. your character feels the need to not be seen - they get an invisibility power. (although that is a very simple one, of course.)





Here are our characters:

Rouya - Penelope Scott

Alwin -  Ethan

Pastelice - Micah Lancaster

Apterygidae - Viola Hudson

Selby - Reigen Jones

Alfie - Hugo Rio Abilio Lainez (Rio)




Name: Penelope Scott
Nicknames: Penny, Scott
Gender: Female
Age: 17
Power: Teleportation
Relationship status: Single
Sexuality: Bisexual
Personality: Introverted, slightly reserved, tomboyish
Likes: Animals, coffee, hiking with her dad

Biography: Grew up with her parents until she was 7. They had always had a bit of trouble making it work, yet they still loved each other dearly. Once in a while though, they needed a little break from each other. This time it was Penny's father's turn to stay home with her, so her mother had left to visit her sister, who lived a few states away, to get a break. She had visited her a few times before, but the night she had left, Penny was asleep, as her dad received a phone call from his sister-in-law. There had been a car accident. Penny had awoken that night from her father's sobbing on the phone and had walked down the stairs to the hallway to listen in on the phone call. The next day, she was informed of her mother's death.
Half a year later, her father had gotten a new job, and they were forced to move to a new, smaller town called Briar Glen. A few years passed, and her father met a new woman, Rachel, whom he really took a liking to. It wasn't long before she moved in. And as for the new stepmom, she had absolutely no interest in a child, so before Penny knew it, she had been alienated from her father and was more or less left to herself.








Name: Ethan
Gender: Male
Power: Electrical powers yo
Sexuality: Gay

Biography: This guy at the age of 19 likes being alone. He keeps to himself, only has a few friends and isn't much of a talker. He's someone who drinks and smokes regularly, doesn't really care about the rules and has no problem with fighting you if he feels the need to.He is, however, calm most of the time. He doesn't like getting attention in any way and keeps his calm mostly because of that.
He enjoys photography a lot, and loves going out when it's dark to take pictures, He's also done a few modeling works, as he likes taking photos of people in action. He's been offered a few jobs as a photographer but he's always declined; photography is only a hobby and if he were to decide he wanted to pursuit it, he knows he'd want to do it himself.

He's of average height and weight, not really much to notice except for his eyebrow piercing and the few tattoos he has. 
His style is very simple, with just a simple, usually black, t-shirt, a pair of black jeans and some Doctor Martens. Occasionally a beanie, and a college shirt when it's too cold for just a t-shirt.
He paints his nails black at times, but because he usually forgets it, it doesn't happen very often even though he likes having black nails.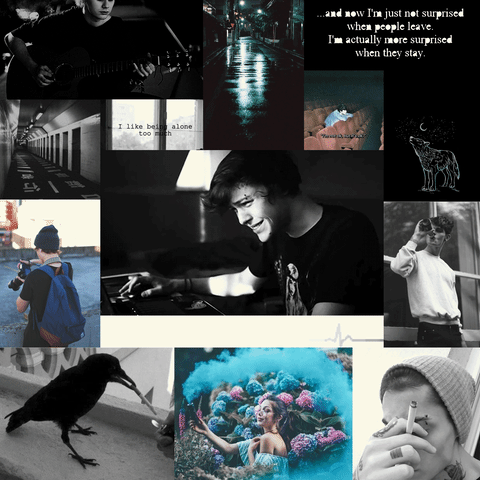 Name: Micah Lancaster
Age: 18
Gender: Male
Power: Telekinesis
Relationship Status: N/A
Sexuality: Bisexual
Personality: Cocky and rude majority of the time. In emergency situations, he's assertive and level-headed. He's a softie on the inside and is secretly a hopeless romantic. He's a flirt and absolutely knows he looks good. 
Likes: coffee, flirting, eating, sleeping
Dislikes: talkative people, hypocrites, snakes (reptile), snakes (fake people), anything that annoys him.
Physical Description: Decently toned body. he's about 6'1 and 180 pounds. He's mixed and has dark brown curly, uncontrollable hair. He has brown eyes with flecks of gold in them. He's lightskinned with freckles and a decently strong eyebrow game. He has dark long lashes and and his eyebrows are dark as well. He has a three-hilled nose and his jawline is sharp. He also has a septum and his ears are pierced.






Name: Viola Hudson 
Gender: Female
Age: 19 
Power: Pause time (only people that are close to her or in the same room as her will freeze)
Relationship status: She has just broke up with her boyfriend, so she is single now. 
Sexuality: Pansexual 
Personality: Viola is a very kind and warm person when you got to know her. If you don't know her that well she will be very cold and rude to you. Under that cold shell she is a book nerd and loves to explore. Viola can be kind of curious if someone or something get her attention. 
Likes: Reading, travel and paint.
Dislikes: Sweets and the sun.

Body Type: Her body is very fit and strong and has a nice shape.
Height: 1,69 cm 
Weight: 65 kg 
Complexion: She has a very pale skin.
Hair: Viola's hair is short and goes to her shoulders. It has the color mint green.
Eyes: Her eyes are dark brown.






Name: Reigen Jones, called Ress by some.
Gender:  Male
Age: 19
Power: Super strength
Sexuality: Gay


Appearance: Ress's got fairly short, dark brown hair and a slightly tanned complexion. His face has grown to look quite stern over the years with sharp edges and what could be described as a square shape. His eyes are big with a green-ish gray color to them. He has pierced his ears many times but rarely wears any jewelry in them. His body has gained a bit of muscle as of late and he's quite tall, though he still bruises easily. Can't read without glasses. He wears a lot of dress shirts, never buttoned, with jeans and boots.


Personality/background: Reigen has developed a somewhat violent train of thought after years of suppressed anger coupled with an intense desire to rebel and give the world a right punch to the face. He was always told to be good; just be good and everything would work in his favor, sooner or later. Even so he got badly bullied since a pretty young age. It had its start with him being an incredibly weak and wimpy kid but even after growing into someone who looks like they couldn't possibly be the victim, it still lingered. At home he was treated as fragile goods, even at the current point in time. He created somewhat of a double life for himself with a friend group outside of school who had never seen him as weak. There he was free to stretch his personal boundaries a little but never quite let loose in fear of disappointing his parents. Well, what's going on in his mind aside; he acts quite sweet most days and is dedicated to helping others. If that will stick is another thing. He does have a short temper but tries his damnedest to cover it up. Sucks that he's a terrible liar.


Likes: Milkshakes, exploring abandoned places, candy
Dislikes: Doting parents, genuinely good people (because reasons), bugs
Other: The piercings in his ears are more to have a sense of control over his identity than to be fashionable, which is why he doesn't use them often. They have gotten infected before as he does them on his own.




General: Their name is actually Hugo Rio Abilio Lainez, but they have chosen to just use Rio in social associations. It's both shorter and it also seems more neutral to them. Anyways, Rio is at the age of 17 which might not always be too believable since they looks quite young with their chubby cheeks. They are just very round and softly shaped in general which also gives them this feminine feel, though they are born male. This does however not change the fact that they identify as non-binary, yet they still accepts both he/him pronouns and they/them pronouns.

Power: When this electrocution found place they gained time travelling powers, of course there is a limit to those powers as they aren't trained or anything.

Appearance: Rio isn't a very tall person, actually they are 165 cm. Sure they is still growing, but there is a limit to how much they'll still grow, as they has stopped growing fast. Also their weight is about 75 kg, which means that they is on the chubby side. This does fit them quite well, since they is a softie inside and all the way out.  Their skin is naturally golden, and their hair and eyes as both very dark brown, almost black.

Personality: They are a very 'cute' type of person, and with cute you have to understand it like: They really likes cute things, furry friends, anything soft and fluffy, flowers and a lot more. Not just that, but they is also a very shy person, this does not make them an introvert, as they love being around people and talking with them. But they have a hard time starting any kind of conversation themself, or even approach people in any other way. You will also experience them as being very conflict-aversed, they would rather just keep completely out of such things. If anyone just as much as raises their voice at them they'll be devastated.