As you may know I've gotten a sudden temporary celebrity crush.
So I thought of writing a blog about him. Simple as that. 
Thomas (Tom) Holland was born 1st June 1996 in Kingston upon Thames, London. 
His parents are Dominic and Elizabeth, a comidian and photographer. 
Tom has 3 younger brothers. Two who are twins, Sam and Harry. Then we have Paddy the youngest who still, accordning to Tom, sleeps in Tom's old sheets with Spider-man on. Tom has a dog, a Pit Bull, named Tessa.
At a really early age Tom was on a Billy Elliot musical show with his family for Dominic's birthday. Tom said to Elizabeth "hey mom, why don't I go audition for this, it looks quiet cool?". This was after a headbaster of a ballet school had already spotted him, with street dancing, asking him to audition for it. He got up for the auditions and two years later he got the Billy Elliot role in the musical as a ballet dancer. 
The ballet trainers were really strict, Tom explains. 
At the age of 7 Tom was diagnosed with Deslexia. Confirmed by his own dad in an interview 2014  He has said in multiple interviews that he has trouble reading and as well it's noticable when he posts on instagram for example.. Quoting "I can hardly spell when they're in the right order, man".
Fans seem not to be aware of his condision, or at least respect it but instead make fun of him misspelling stuff. At a moment Tom had said that the roasting became too much. But mostly he makes fun of it himself. In one interview he even said he has troubles reading so others sometimes reads the scripts for him.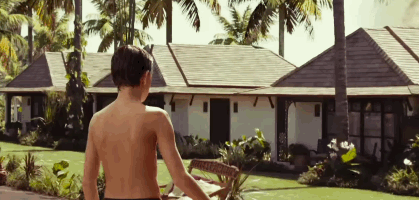 During the time at Billy Elliot the movie The Impossible came around. The director of the Impossible saw Tom on youtube. A clip where he had an interview. He later came to London to meet Tom 3 or 4 times and connected. "I think 6 or 7 weeks after leaving Billy Elliot I was in spain leaving the waves"
The impossible is a movie based on what happened boxingday 2004. When the earthquake in the Indian Ocean caused tsunamis flooding over the countries aroung Bay of Bengal killing 283 000 people. 
Tom played as Lucas Bennet, 12. In the movie he has 2 brothers and a mom and dad. When the wave hit they all get seperated. He finds his mom really fast when they get drawn along the water further anf further away from the hotel they were staying at. They try really hard to reach eachother not to loose the other again. His mother is severly injured and can barely walk by herself when they finally get out of the water. They find a tree to climb up to if there would be another wave to come. When they walk towards it his mom notice a little boy screaming. At first Lucas don't want to care, he want his mom to be safe in the tree but his mom is stubborn and they finally find the little Swedish boy named Daniel. The movie is then based on them finally coming to the hospital and get care for Maria, the mom, and her struggle with keeping herself alive. Both believing the younger brothers and dad are dead.
Holland has said he often had to say something out from his head to break the ice between the takes because of the atmosphere filming the event. He also told he met the real Lucas Benett during the filming. 
The movie The Impossible aired 2012. Tom at his age 16. Highly recommend to watch this movie as you learn a lot from it, it has me crying for 2 hours straight.
Tom started auditioning for Spider-man Home Coming in the end of 2014, then 18 years old. He auditioned for 4-5 months according to him in interviews. He was told several times to know how it went and if he got the role. After the last audition they said "you'll find out tomorrow". But no one ever called him. Weeks past. 
After six weeks he scrolled through his instagram and saw that Marvel had posted a picture with text "go to our webpage to find out who our new Spider-man is". And there it was, Tom Holland, in a big text with a huge news. He ran downstairs after he had read it screaming. His dog, Tessa, was terrefied and had no idea what was going on. His brother Harry, who's very good with technology, said "They've probably been hacked bro". "They would call you, right, to let you know?". Tom called his agent asking and they didn't know. The Kevin rang up Tom and said "hey i have some great news. You're gonna be spiderman". Tom was like "..I know.. Kevin. You put it on instagram". This was on June 25th 2015. 
For the movies he removed a birthmark from his chin.  The birthmark can be shown in the GIF above.
Tom was really excited to put on the suit for the first time for the filming of Captain America: Civil war, which was the first movie he appeared in as Spider-Man. However it did not quiet turn out as expected. His stunt double at the time was taller and bigger than Holland was so when he put the suit on, it did feel great. But when he looked in the mirror he wasn't as satisfied as he'd hoped for. He described the look as a really saggy looking sad Spider-Man. They later got his suit which was specificly made for him and his body size.  
Throughout the latest years Tom has broken his nose not one time, not two, but three times! Exact dates or years I haven't really found. 
First time he was talking to someone who wan't quiet aware of what Tom could really do. They came across a video from a beach where Tom made a backflip. The other person said that that could not be Tom, no way it could be him. At the time Tom was wearing leather boots and stood up saying "watch me" and jumped backwards. However this time it didn't go that well.  Tom's own words was: "I tried to do a backflip.. and just... broke my face". He continues "I stood up. I thought I'd knocked my teeth out and the makeup artist was laughing at me and when she saw my face.. she went from like hahah to like OOOOOOH MEDIC MEDIC". This was right before finishing one of his other movies,The Lost City of Z, and he had to, after the director asked nicely, finish the last scene before driving to the hospital. 
Second time he broke it whilst filming Chaos Walking. Exact details is unknown. 
The third time was during the making of Acengers: End game. 
Tom has also told he once got hit in the face by another actor. Apparently they are supposed to make a sound right before making a move for the other actor to be prepared to move. However this other actor failed to do this and hit Tom right in the face. This did not end up in a broken nose though. 
The same year as the release of Spiderman: Homecoming Tom performed at Lip Sync Battle against Zendaya. 
Zendaya performed Bruno Mars 24k Magic which was incredible and hard to beat. Zendaya even told that Bruno Mars sent her flowers after the show was released on TV and praised her performance. 
However what Zendaya did not expect was that Tom had been practicing and prepared a lot as well. He started his show with Singin' In The Rain dressed in a costume and fancy hat along with an umbrella. Though only 20 seconds into the performance he got behind a number of other umbrellas while other dancers went up the scene and the song changed. Tom finally revealed himself from the umbrellas... Dressed as Rihanna in fishnets and tight clothing making the audience scream as well as Zendaya herself. 
Highly recommend to watch the video here: 
https://www.youtube.com/watch?v=1GOSAHB62r0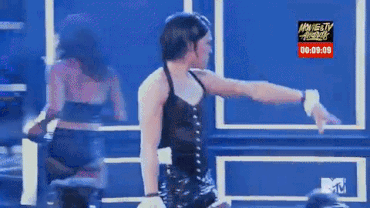 As you may of noticed i also based a design of this performance of Tom.
SPOILERS
Holland is also known for spoiling movies and big events in movies. He once claimed in an interview that it wasn't that bad. But he accidentally revealed the new Spider-Man title (Far From Home) in the same video as he just had said he didn't have any big news or revelations. He showed up an iPad saying he just got the new script. However what he didn't think of was that it clearly said the whole title of the movie on the screen. He sent live during this. 
He also recieved an Avengers poster home. He was live during this as well. He showed up the poster, then read the letter with it. While he was reading this the audience could clearly see on the back of the paper he was holding "CONFIDENTIAL. DO NOT SHARE". When Tom turned the paper his face expression changed pretty quickly and he reached to turn off the live broadcast. 
In an interview, live as well. They had just talked about him spoiling and revealing stuff when Tom said he often gets face scripts and told about this one time when he read "Spider-Man's in space!". And it turned out to be true. The interviewer looked weird at him saying he did not know how to react to what he just said. "What did I just say?" Tom said. Avengers Infinity War was not yet released by that time he spoiled that. 
After these events and tons smaller ones they've learned not to give Holland the scripts and blanked out parts of them. It has gotten to this point where they lie to Tom for him not to accidentally releave anything. 
(Avengers End Game 
SPOILER ALERT
!)
For the funeral scene in End Game, they told Tom there was a wedding. And he fully believed that since he had no idea how the movie was turning out as due to lack of trust in him. He came to the stage asking after a while.. "where's Robert?". However he was not supposed to be there because there was no wedding. It was Tony (Actor: Robert)'s funeral. 
Tom Holland has told that he finds it good in a that he doesn't always know how the movies are turning out because he can enjoy them at the theatres just as much as the fans does, as a fan himself as well.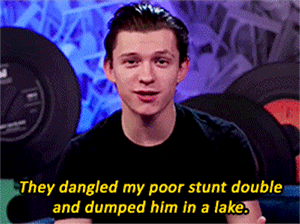 In later interviews Tom has had a "babysitter" with him to control his mouth several times.
In a later interview, less than a week ago from, now he said too much once again. This video has not gotten so much attention though so he should be glad about that. 
Some fun facts to end with:

- It is rumored and not 100% confirmed that he dates his co-star Zendaya.
- Under the Spider-Man costume he has to wear a thong to "make the suit look better".
- They even considered gluing his ears do to the fact that they stuck out too much.
- He is the youngest actor who has ever played Spider-Man.  He was cast at first as a 19 year old.
- They had to re-take some scenes that was recorded a week where his dialect coach wasn't available due to him speaking Brittish and not American. 
- He has a tatto underneath his foot of a spider from a thread.